October 2018: new article by Katie Nartonis, Remembering John Nyquist
September 2018: SoCal Magazine. Welcome to Randyland by Katie Nartonis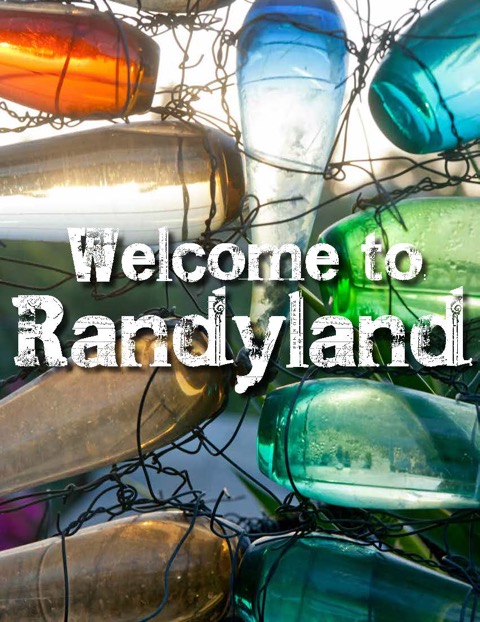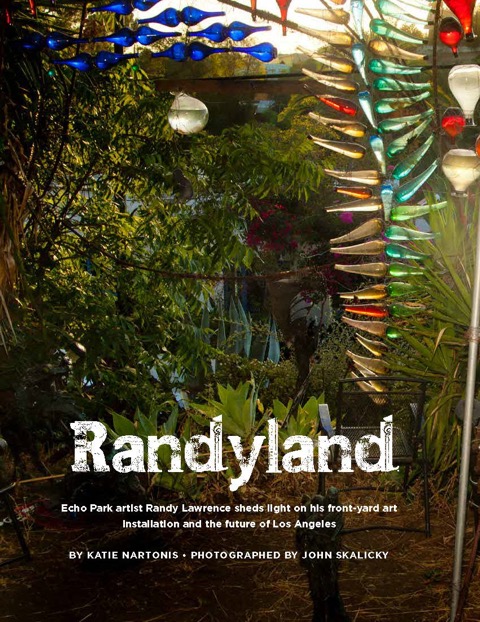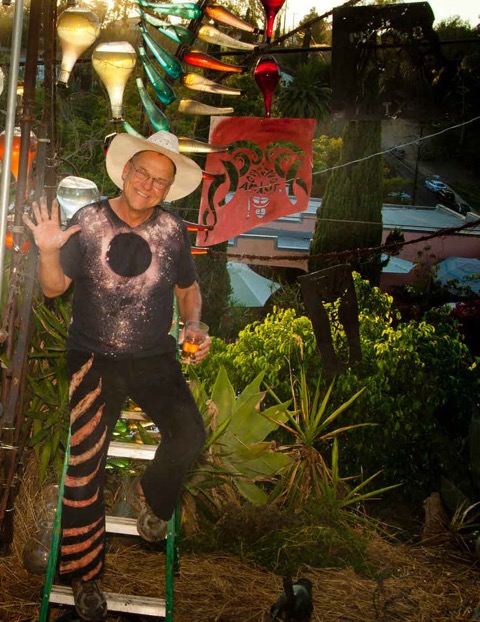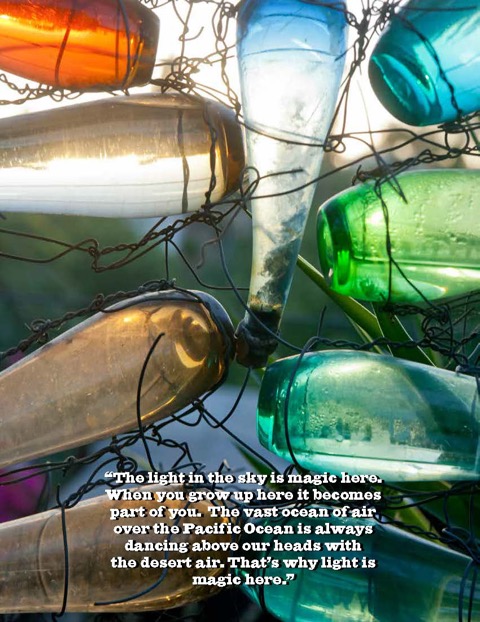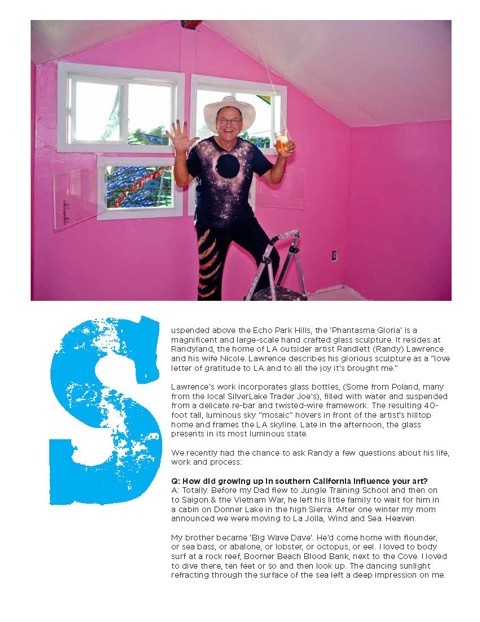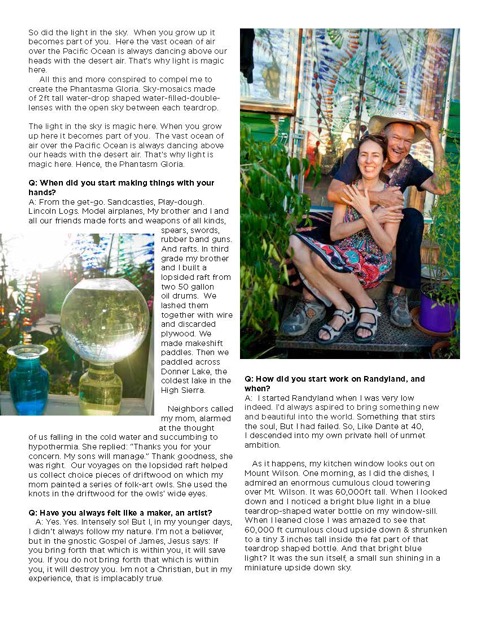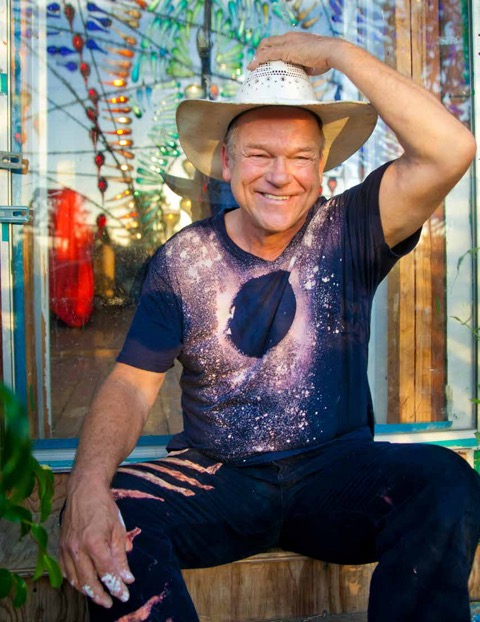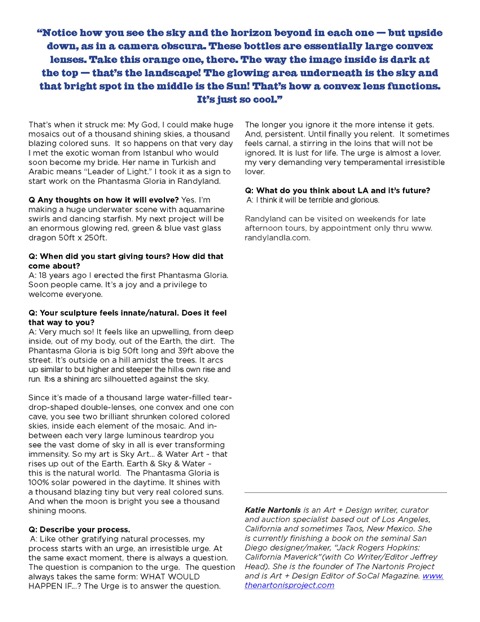 http://www.socalmag.com/welcome-to-randyland/
August 2018: Katie Nartonis, founder of The Nartonis Project is honored to announce that she has just been elected to serve as a member of the executive board of the Sam & Alfreda Maloof Foundation for Arts and Crafts.
June 2018: "Neo Native: Toward New Mythologies" show at the Sam & Alfreda Maloof Foundation: An interview with curator and contributing artist Tony Abeyta
Mai 24, 2018: SoCal Magazine: Spring 2017
Katie Nartonis interviews legendary gallerist David Fahey for SoCal Magazine
Thank you to all the artist/makers involved in NATURE: HUMAN NATURE ♥️
2018: "NATURE: HUMAN NATURE"
Art + Design Show to open at The Loft at Liz's Saturday May 5, 2018 in Hollywood California.
Curated by Katie Nartonis
FOR IMMEDIATE RELEASE: "NATURE: HUMAN NATURE"
Art + Design Show to open at The Loft at Liz's Saturday May 5, 2018 in Hollywood California.
The Loft at Liz's gallery in Los Angeles, proudly announces its May 5, 2018 opening of "Nature: Human Nature" a curated art + design show featuring some of the most important living artists and makers of the West Coast scene. Curated by West Coast Design specialist Katie Nartonis, "Nature: Human Nature" features the work of veteran artists and designers as well as emerging contemporary makers. The show will feature 2D and 3D art and sculpture, as well as design including studio furniture, lighting, pottery and custom textiles.
Gallerist Liz Gordon, proprietor of The Loft at Liz's, programs a full schedule of curated shows throughout the year. Located above her veteran Hollywood shop, Liz's Antique Hardware, the gallery space is a hotbed of groundbreaking programming. Her annual Nature show has become an yearly tradition, and Nartonis has expanded this year's offering to include interior design in the space.
Nartonis has gathered the work of artists from up-and-down the West Coast as well as New Mexico for the show. Her relationships with the artists and makers featured is a natural outgrowth of the fact that Nartonis splits her time between Los Angeles and Taos, New Mexico. The show features a theme of celebrating Nature as well as humankind's interaction with, and engagement in, the natural world.
Northern California makers participating in "Nature: Human Nature" include legendary funk furniture maker Garry Knox Bennett and Mill Valley's Tripp Carpenter III who is known for his hand-turned wooden objects and hand-crafted furniture produced in his father's studio (the late historical maker Art Carpenter).
Los Angeles makers include the work of the late Evelyn Ackerman (who worked together with her husband, Jerome "Jerry" Ackerman) and whose work is represented with textiles from the newly re-issued Ackerman Modern line. Over 30 works by Mid-Century printmaker and sculptor Thomas Laursen will grace the space. Veteran living CA makers include the "King of Lucite" Charles Hollis-Jones and sculptor/maker Pamela Weir-Quiton. Philip Miller, an LA based metal sculptor and artist has created original furniture design and sculpture including a reissue of his 1970's design "The Breast of Drawers."
Sam Maloof Woodworkers will lend a number of original designs crafted by Mike Johnson, Sam Maloof's long time apprentice. Johnson, along with his son Stephen, maintain Sam's vision of creating hand-crafted furniture and accessories from extraordinary hardwoods that blend beauty and utility.
Emerging and contemporary talent includes Los Angeles based artist Jon Huck, who has a vibrant local SoCal following, and has created a series of whimsical watercolor animal paintings expressly for the Nature show. LA photographers Sean Deckert, Stephen Linsley and Connie Thompson include compelling images of the Arizona night sky, SoCal beach pier-pilings and luscious flower studies respectively. LA sculptor Rebecca Niederlander and installation artist Marcel Kigen have contributed site specific works for the show.
Los Angeles based landscape painter Chris Jones will be included along side veteran New Mexico artists Nicki Marx, Jennifer Lynch and Candy Nartonis who will bring their feather-wall works, prints and paintings to Los Angeles for the show.
Seattle based textile designer Michael Cepress has contributed hand-dyed fabrics. The painter 'Franco' (Franco Accornero), who made famous the model Fabio (Fabio Lanzoni) by painting him for the cover of romance novels will be represented with two original cover-art pieces in the show. Curator Katie Nartonis has included examples of her own nature photography as well.
The opening party is Saturday, May 5 (from 7-10pm) and the show runs through June 15, 2018. A special screening of the 2015 documentary "In Tandem: The Life and Work of Jerry and Evelyn Ackerman" will take place in the gallery on Sunday, May 6 at 3:00pm. (Filmmakers Margaret Halkin + Katie Nartonis will introduce the 25 minute film, and the artist Jerry Ackerman plans to attend.)
The Loft at Liz's is located at 453 South La Brea Avenue in Hollywood. Uber is recommended. Contact for press or interviews: Randi Kreeft at 323-939-4403 ext 5 or Liz Gordon at ext. 4. Katie Nartonis is available for private tours on Mondays throughout the run of the show (by appointment.)
2016: Katie Nartonis, of The Nartonis Project, joins SOCAL MAGAZINE as Art + Design Editor. Look for articles that feature the unique Art + Design Landscape of the Southern Californian Scene.
October 2016: On view at LACMA starting October 1st as part of the "Beyond Bling" show by Lois Boardman.
Two years ago this month, The Nartonis Project had the great honor of curating a gallery show on the work of historical West Coast/Taos feather-artist Nicki Marx.The solo show "Marx Rising" was co-curated with Reform Gallery/Gerard O'Brien. What a fabulous success!!
We sold over a dozen of Marx's pieces during the shows run and the story just still keeps rippling...the show generated glowing national coverage. in design publications such as "C" California Style Magazine, American Craft, The Intelligent Collector, LA Fashion and Ornament Magazines.
The legendary fashion photographer Philip Dixon shot the front cover of Heritage Auctions Fall 2015 20th C. Design catalog. Nickis work has been featured in multiple gallery shows since.
One of the historically important Marx pieces from the "Marx Rising" show was acquired by Los Angeles County Museum for their permanent collection and will be on view starting October 1st at LACMA as part of "Beyond Bling!" The "Beyond Bling" show is the wonderful Lois Boardman's comprehensive collection of studio jewelry. I hope to see you there!
Congrats Nicki!!!!!!
JANUARY 15, 2016: Heritage Auction's Winter 2015/16 issue of The Intelligent Collector features an article by Katie Nartonis: Undiscovered Treasures: Story of Feather Artist Nicki Marx Is One of Many Waiting to be Told.
OCTOBER 1, 2015: Heritage Auction's T & E Journal publishes this article by Katie Nartonis in anticipation of their auction on October 10, 2015.
SEPTEMBER 4, 2015: Katie Nartonis is currently in the midst of preparing for her first auction with Heritage Auctions in October of this year. Here is a sneak peak into her article for the Fall 2015 issue of The Intelligent Collector.
JUNE 13, 2015: Katie Nartonis and Jo Lauria host an event at Heritage Auctions, highlighting the work of Nicki Marx, and introducing the work of California artist Tom Laursen.
MAY 1, 2015: Project Gallery presents American Beauty, works by Stefan Kleinschuster
May 1 - 3, 2015
Opening Reception: Friday, May 1st, 7-10p
Saturday & Sunday, May 2 - 3, 12 - 5p
NEW LOCATION: 1625 17th Street Suite 2A Santa Monica, CA 90404 (near Bergamot Station)
Stefan Kleinschuster's figural canvases are large, undeniable, and command attention in any space. Each piece is a singular glimpse into another world which reads like a screen shot, a film still, a cinematic thrill. The work isn't about a momentary high or ephemeral projection; it's a naturally unfolding event, one that presents with immediacy.
Kleinschuster's images aren't overtly racy. They are definitely sexy, but maintain a refined edge. The world of his American Beauties is not elite, it is mundane, and yet what happens there is numinous. He creates a place where women hold power, even if initially it might not seem to be the case.
These women draw quiet strength from the natural world (Red Leaves and The Orchard) with as much grace as they command a raucous crowd (The Beach), or a post apocalyptic world in (After the Rain). The work is an interesting take on a return to the sacred feminine, tapping into the magic of the natural world, and how these things are not at odds with living in a modern way.
Kleinschuster's women are ballsy and beautiful. Whether they stand nearly naked in a room rife with guns and bullet holes (Guns and Ammo), or wait patiently beneath the water's surface, floating with loose globs of sinister oil in (LA Woman), each girl seems to know her "salt" and is comfortable with her own power.
Spending time with his work is like attending a party where any minute things are bound to get out of hand…someone will take off a shirt, pull a gun, start a fire. And yet strangely, in the midst of it, you are charmed. Charmed into believing this world is possible, undeniably intense, and positively intoxicating.
The American Beauty series, is the inaugural show at Project Gallery's new space in Santa Monica. Kleinschuster is a recent transplant from Denver, and this is his first show in California. The work will be on view from May 1-3. Opening reception is Friday, May 1st from 7:00-10:00pm.
The Nartonis Project is dedicated to presenting fresh work, past and present, from the vibrant West Coast Art scene.
For preview inquiries, please contact: sarah@projectgallery.com
MAR. 10, 2015: Katie Nartonis Joins Heritage Auctions as Consignment Director, 20 &21st Century Design.
Brings 15 years of experience to firm's growing Beverly Hills office
DALLAS – Heritage Auctions has announced that Katie Nartonis, with more than 15 years of experience in the fine auction field, has joined the firms' growing office in Beverly Hills, California, as a Consignment Director of 20th & 21st Century Design.
Katie has a passion for the hand-made object, especially for the celebrated work of post-war California studio artists and craftsmen. Her appreciation and knowledge of art and design extends well beyond the West Coast movement, and she has handled many thousands of works for auction from fine and rare Tiffany glass to Playboy Magazine's collection of development art. In her career she has produced over 25 lecture events with subjects ranging from Art, Design, Animation and Film.
In 2009 she produced the standing room only event "BladeRunner: Designing the Future" which featured the legendary design team of Ridley Scott's sci-fi masterpiece Syd Mead and Producer Michael Deeley. Her art and design events have featured living artists and designers such as Sam Maloof, Otto Heino, Larry Bell, Garry Knox-Bennett, Arthur Espenet Carpenter III, Michael Cooper, Gere Kavanaugh, and John Nyquist, among others. Katie is also founder of The Nartonis Project which is dedicated to telling the compelling stories of the West Coast Art scene thru film, curation, lecture and published articles.
"We are thrilled to team up with Katie," said Ed Beardsley, Vice President of Heritage Auctions. "She is an amazing ambassador not only for the objects made by inspired and talented artists and craftspeople, but also for the passionate collectors of these objects."
Katie has been published widely on art and design, most recently with "Featherwear: The Art of Nicki Marx" in the February issue of The LA Fashion Magazine. In just the last few months she has been published in American Craft Magazine, C California Style Magazine and will be featured in an upcoming article in Ornament magazine. In early February, before a packed crowd of 300, her documentary film, "In Tandem: The Life and Work of Jerry and Evelyn Ackerman" (co-produced with Margaret Halkin and Short Story Media) debuted at 2015 Modernism Week in Palm Springs, to great accolades. Katie's work on the film was featured in February in the Los Angeles Times.
"I'm so excited to be part of Heritage's growth in 20th & 21st Century Design," Katie said. "Everyone I have met at Heritage is friendly, transparent, and passionate about rare, historical, and beautiful objects."
Katie Nartonis, Consignment Director, 20th & 21st Century Design, may be reached at katien@ha.com or 1-877-HERITAGE (437-4824), ext. 1704.
Heritage Auctions is the largest auction house founded in the United States and the world's third largest,with annual sales of more than $900 million, and 900,000+ online bidder members. For more information about Heritage Auctions, and to join and receive access to a complete record of prices realized, with full-color, enlargeable photos of each lot, please visit HA.com.
FEB. 16, 2015: Featherwear: the Art of Nicki Marx appears in the March issue of LA Fashion Magazine, and features the story of how Katie Nartonis first connected with Nicki. Thank you, Randy Dunbar, for highlighting the work of The Nartonis Project, Phillip Dixon for snapping the shutter, and Faria Raji for taking the time to represent Nicki's work perfectly. Click on the image below to arrive at our press page and the full article.
FEB. 14, 2015: In Tandem: the Life and Work of Jerry and Evelyn Ackerman is featured by Kimberly Stevens in her Saturday HOME AND DESIGN article for the LA TIMES. (Click the link to read the full article online). The film debuts as part of a panel discussion and book signing this Valentine's Day at Palm Springs Modernism Week. Click on the poster by Faria Raji below, for more information.
"A LOVE STORY IN MODERN STYLE"
ACKERMANS' MIDCENTURY STYLE BACK IN DEMAND WITH BOOK, FILM, EVENTS
Written by Kimberly Stevens
Kimberly Stevens captures the essence of what Katie Nartonis and Margaret Halkin highlight in their film, "In Tandem: the Life and Work of Jerry and Evelyn Ackerman." At the center of the Ackerman's productivity, was a solid heart of gold, the melded product of decades of devotion. The film premiers Valentine's Day at Palm Springs Modernism Week.
THE NARTONIS PROJECT WOULD LIKE TO EXTEND A SPECIAL THANK YOU TO BEN ROSENTHAL FOR HIS ENCOURAGEMENT AND SUPPORT. WITHOUT WHICH THIS FILM WOULD NOT HAVE BEEN MADE. MUCH LOVE.